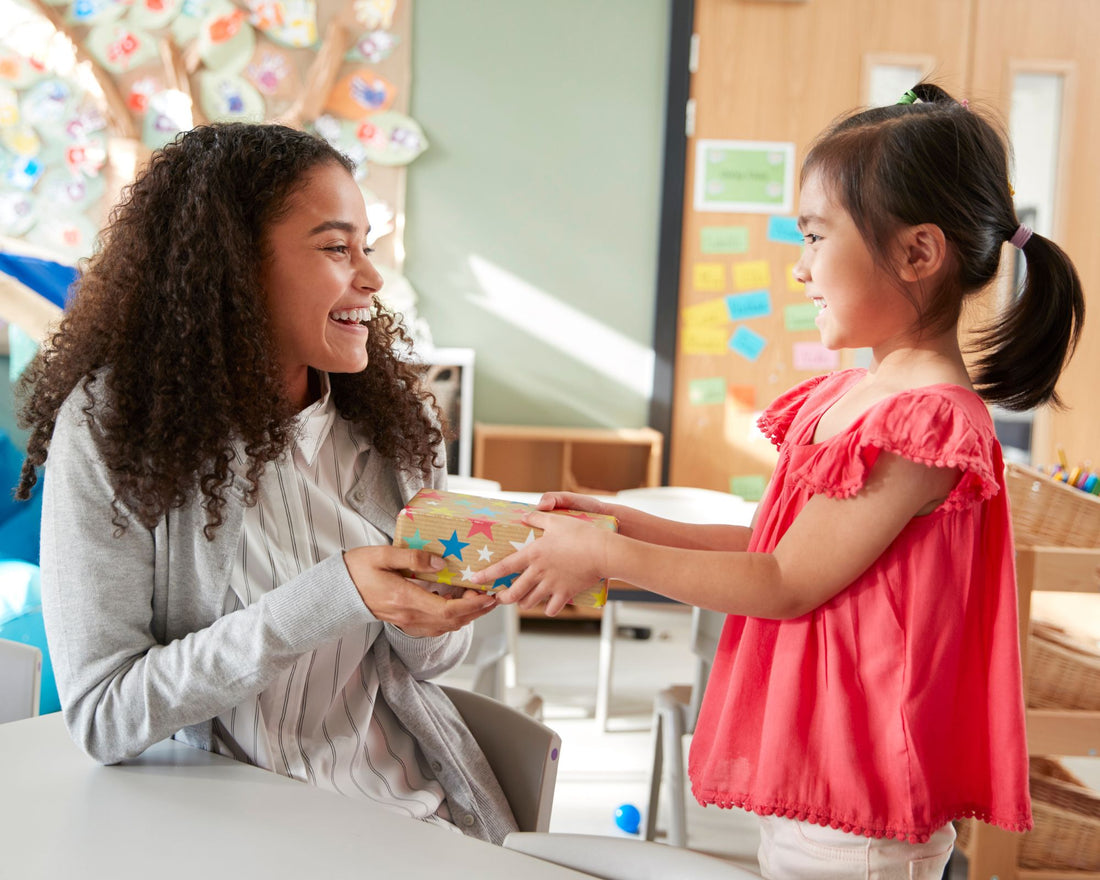 Last Minute Teacher Gift Ideas
Are you feeling the panic set in because Teacher Appreciation Day or the end of the school year is just around the corner? Don't fret! We've got your back with some fantastic last-minute teacher gift ideas that will have you looking like the most thoughtful parent or student around.
From personalized books to hilarious gifts that will make your favorite teacher chuckle, we've got something for everyone. So, let's dive right in and save the day with these awesome teacher gift suggestions!
Teacher Gift Basket Ideas
A teacher gift basket is a versatile and thoughtful present that can be put together in a flash. Here are some fantastic ideas:
Tea and Mug Gift Set
A cozy cup of tea is just what a hardworking teacher needs. Assemble a gift set with a variety of tea bags, a stylish mug, and some honey sticks. It's the perfect way to help them relax after a long day.
Peanut-Free Snacks
For the health-conscious teacher or those with allergies, a basket of gourmet peanut-free snacks is a great choice. For example, look for options like popcorn, fruit bars, and mixed nuts. They'll appreciate the effort you put into their well-being.
Stationery Gift Set
Teachers can never have enough stationery! Create a stylish stationery gift set with high-quality pens, notepads, and even a personalized notepad. It's a gift they can use every day.
Picture Frames and Desk Decor
Help your teacher brighten up their workspace with picture frames and desk decor. For example, include some cute, motivational prints, and a picture frame for their favorite photos. It's an easy way to make their desk feel like home.
Sanitizing Wipes and Sprays
Given the current times, sanitizing wipes and sprays are always appreciated. Assemble a practical gift basket with these essentials, along with some scented hand sanitizers to add a little luxury to their hygiene routine.
Personalized Books For Teachers
Personalized books are a meaningful and memorable gift that will be cherished for years to come. For example, here are some options that your teacher will love:
Fill In The Blank Thank You Teacher Book
This is an adorable option for young students to express their gratitude. The book prompts kids to fill in the blanks about their teacher, their favorite memories, and what they've learned.
Custom Gratitude Journal
A gratitude journal is a thoughtful way to help your teacher reflect on their day. For example, customize it with their name and a special message to make it even more personal.
Personalized Daily Journal
For teachers who like to jot down their thoughts, a personalized daily journal is a perfect gift. Include their name or initials on the cover to make it truly theirs.
Gift Ideas For a Retiring Teacher
Retirement is a significant milestone, and the perfect time to show your appreciation. For example, here are some retirement gift ideas for teachers:
Engraved Pen
An elegant engraved pen is a classic retirement gift. You can include a heartfelt message or their name to make it extra special.
Framed Thank You Letter
Compose a heartfelt thank you letter, expressing your appreciation for your teacher's dedication over the years. Frame it for a beautiful and meaningful keepsake.
Custom School Logo Blanket
A custom school logo blanket is a warm and cozy gift for a retiring teacher. It's a great way to keep their school spirit alive in their home.
Male Teacher Gift Ideas
Shopping for male teachers? Here are some great ideas that cater to their unique tastes:
Tie
A stylish tie can be a simple yet classy gift for a male teacher. For example, choose a tie with a fun pattern or in their favorite color.
Pen Organizer
Help your teacher keep their desk tidy with a sleek pen organizer. It's a practical gift that shows you care about their workspace.
Phone Holder
A phone holder makes it easy for your teacher to keep their phone at the ready. For example, look for one with a sleek design that complements their style.
Funny Teacher Gift Ideas
For the teacher with a great sense of humor, funny gifts are the way to go. Here are some humorous ideas that will make them smile:
Custom Bobble Head
A custom bobblehead with your teacher's face on it is sure to bring a chuckle. In short, it's a lighthearted gift that adds a touch of fun to their desk.
Funny Quote Coffee Mug
Find a coffee mug with a witty and relatable quote about teaching. Every morning, they'll have a good laugh as they sip their coffee.
Personalized Swear Jar
Teachers hear it all, so why not gift them a personalized swear jar? It's a hilarious way to poke fun at the occasional slip-up in the classroom.
Final Words on Last Minute Teacher Gift Ideas
In conculsion, with these last-minute teacher gift ideas, you'll be ready to show your appreciation, even when time is running out. Whether you opt for a thoughtful gift basket, a personalized book, a retirement present, or a funny gesture, your teacher will feel valued and cherished.
It's the little gestures that mean the most, and with these ideas, you'll make your teacher's day while looking like the star student or parent you are.
Above all, go ahead and spread the love and gratitude to the amazing educators in your life! And if you're looking for more inspiration, check out our collection of Teacher Appreciation Gifts, including our Personalized Teacher Appreciation Gift and Personalized Daily Journal to make your gift extra special.